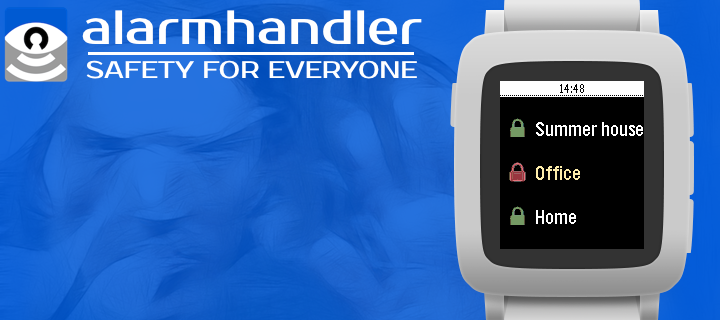 You know how alarms are nice to have, but stressing to operate? Good news is that you can now operate your alarm without getting your phone out or using a control panel. Just open the Alarmhandler app on your Pebble smartwatch and remote control your alarm.
Why Alarmhandler?
The security industry is changing. Previously, surveillance cameras were reserved for professional use. However, the price drop of IP cameras have made it possible for individuals to secure their home with surveillance cameras.
To use an IP camera for surveillance, consumers need to buy a subscription for a cloud recording service. They are all aimed at constant surveillance, which is better suited to store surveillance or monitoring of a driveway than inside the home, where most people want privacy.
Alarmhandler phone app
Alarmhandler is an app that turns inexpensive IP cameras into a virtual alarm system. It makes it easy to set up cameras and to use them in everyday use for indoor home monitoring. It does this by providing an alarm-type app which turns monitoring ON or OFF for all cameras within an estate. A non-technical app that all members of a household are able to use.
Alarmhandler watch app
The Alarmhandler watch app launches today and is the perfect companion to the normal Alarmhandler smartphone app. The most frequent interaction with your alarm is to turn it on when leaving home or turn it off when coming home. And perhaps to check on the state, did I remember to turn it on? We've built in these top three use cases into our new watch app. If you've got a Pebble smart watch, controlling the alarm is now super easy.
"We believe most Pebble users are early adopters of technology. As Alarmhandler is a new type of alarm which is most likely to attract early adopters, it was obvious to us that we should bring Alarmhandler to Pebble" reports Soren Aldenryd, CEO of Alarmhandler.
If you've got a Pebble and been thinking of getting camera surveillance for your home, this is what you've been waiting for – go get Alarmhandler and try it out.
Kind regards
The Alarmhandler Team
PS Wondering how Alarmhandler is different from other alarms?
Alarmhandler is basically an IP camera cloud recording service with a twist. It records nothing as long as the system is turned OFF, and when it is ON it only records upon detection of sound or movement. This means the system meets privacy concerns and at the same time uses cloud storage very effectively.
Alarmhandler is also the first video recording company to offer a smartwatch app to remote control for the system.
Indeed Alarmhandler is the first system to use the "alarm" metaphor for video cameras. Others just treat them as recording devices – whereas Alarmhandler see them as sensors for fire and burglary. In Alarmhandler, recording photo/video is secondary and only relevant if an alarm has been triggered first. Read more about how Alarmhandler differs here.