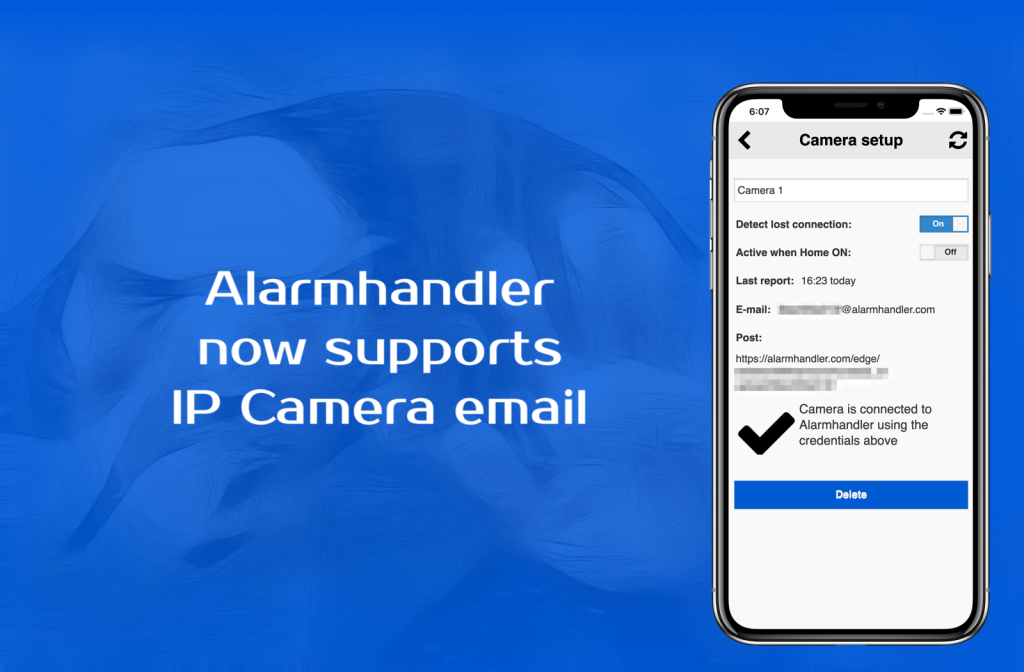 Alarmhandler changes the method used to transfer recordings from cameras to the Alarmhandler servers. From Alarmhandler 3.5 that launches Friday June 28 2019, you should use email and not ftp. Read more below.
IP Cameras Have Changed
When we launched Alarmhandler back in 2015, most IP cameras supported transfer of recordings using ftp. Today, this is quite rare. The cameras are all aimed at being used with a paid service provided by the camera manufacturer.
IP Camera email transfer
If you've got cameras from multiple vendors, or just don't like paying a high fee every month, you still have another way out: Most cameras offer email alerts containing recordings. We've changed Alarmhandler to use this method to integrate various camera brands and models into our app, Alarmhandler.
What Alarmhandler does for you
Here's how Alarmhandler helps you, compared to just receiving alerts by email directly from your camera:
Most camera control apps do not offer a simple and instant detection on/off button, meaning you will get lots of mails all the time as soon as there's a detection. Alarmhandler never records anything or alerts you, unless you turn recording ON explicitly in the app – and then it only records when motion or sound is detected – meaning you don't have to worry about getting lots of messages and missing our on the important ones.
We detect the connection to the cameras. Alarmhandler sends you a push message if nothing has been heard from a camera in 24 hours. Unless you're away on vacation, the cameras will usually detect something within 24 hours. If they don't you may want to check that someone did not unplug the power. If you're using the cameras without Alarmhandler, they might not be working at all – and you have no idea about it.
Alarmhandler cleans up recordings. The received mails are deleted a few seconds after Alarmhandler receives them from your camera. If your alarm is ON, then the service will keep a copy of the received recording in a a database to allow you to play back the recording. This in turn is auto deleted after 30 days. So all in all, you don't have to worry about images floating around, Alarmhandler takes care of cleaning this up.
Mailing camera recordings to yourself does not mean any action is taken. Alarmhandler has a configurable workflow that kicks in when events occour. It first notifies all inhabitants (that you define) and in case none takes action, and you've turned it on, Alarmhandler will notify neighbours and friends (defined by you) to find the closest available helper.
Alternative transfer method
During the update of Alarmhandler, we've also built in https "post" transfer of recordings. Some cameras support this, and if you have such a camera you may just enter the URL shown under Settings-Estate settings-Camera settings. This transfer is instant and simpler to setup, and this is the method used by most camera providers when transferring recording to their own cloud service. Unfortunately, they do not open up for configuring the camera to use other services than their own. If you know of camera models that support this, please send us a message so we can build a list of https ready cameras to help others.
Migrate existing cameras from FTP?
Check out this FAQ post on setting up email transfer on D-Link cameras, and how to use gmail with cameras.
Other stuff
You might note few bug fixes here and there, and then we've moved to FCM push technology on Android, but that's really under the hood stuff.
Kind regards
The Alarmhandler Team