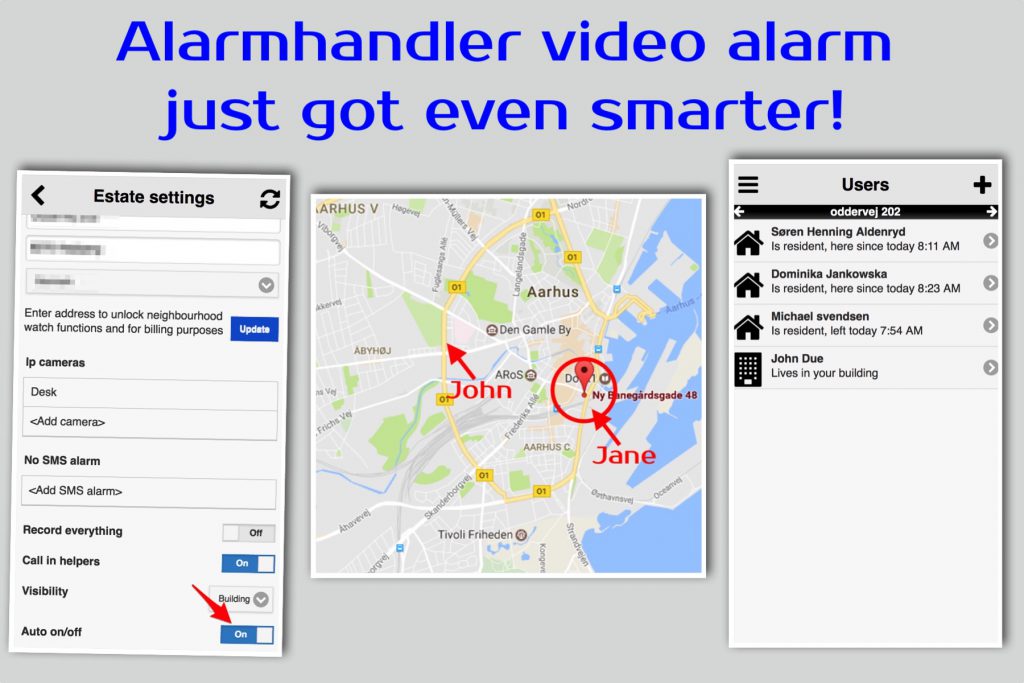 At Alarmhandler we were the first company to launch and also coin the term "video alarm" for an alarm system based solely on video cameras to detect and verify alarms. We're happy to introduce the latest twist on our ground-breaking camera surveillance system, Alarmhandler version 3.3 – learn more below!
What's Alarmhandler all about?
We're an independent service provider that do not sell hardware. Instead we're in the business of developing a simple but effective video surveillance system based on cameras of different makes and models – we don't believe closed eco-systems and vendor lock-in is a good thing!
Location based on/off
We've adjusted how geofencing works. Geofencing is the technology used for energy-efficient location tracking with maximum privacy. It does not let an app know exactly where you are, but just determine if you're near a specific location. This is ideal for a security system, as it makes it possible to jsetup geofences at the location where you've got video alarms installed. The video alarm system can intelligently turn monitoring on and off by persons carrying a phone running the app.
Better control over geofencing
In the new version, you may now enable and disable geofencing on two dimensions: the estate being monitored and the user who is carrying the phone. This let's you tailor your setup to best fit your needs. An example: User A lives at an estate with another person, both use Alarmhandler with geofencing turned ON in their user profiles. However, user A also works at another location where not everyone is using the app. This means the automatic arm/disarm of monitoring cannot happen using geofencing. Alarmhandler now let's you specify this for the estate.
Introducing presence
You know how Messenger and other communication apps lets you know if another user is "active" in the system? We're now adding the same concept to Alarmhandler related to an estate. In Alarmhandler tap Users in the menu to see the user's presence for the estate. The app might show "here since yesterday 13:30" or "left estate today 07:54". This is basically just letting you know when the user last passed the geofence of the estate, so either arriving or leaving the monitored area.
If geofence tracking is not in use for a user, no presence information is shown.
We hope you like the update, please write to let us know what you think on our social media channels or using the Send Message function on our homepage. Thanks!
Kind regards
The Alarmhandler Team