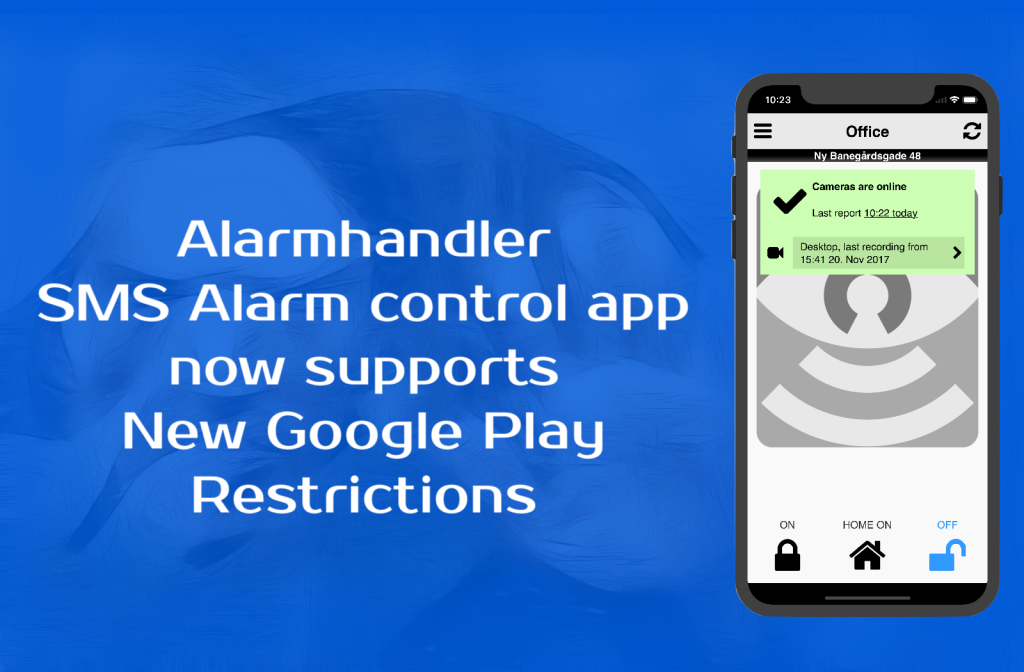 Our SMS alarm control app Alarmhandler ships today in version 3.4.1. Due to changes in Google Play most SMS alarm apps will stop working as of January 2019. If you want to continue using your SMS alarm with an app, you need to look for an updated app such as Alarmhandler. It's been updated to conform with the new Google Play restrictions. In addition, Alarmhandler is now also fully translated into German.
SMS related changes on Android
On Android, we had to change how SMS are sent as the old (seamless) method is disallowed from Jan 2019. This means most SMS alarm control apps will no longer work and will be removed from Google Play. Note that this change only has effect if you're using Alarmhandler to control an SMS based alarm. If you're using Alarmhandler to only control IP cameras, then you don't need to worry about the change. If you're on iOS nothing has changed (except support for German).
Our Android app now works very similar to our iOS app, such that SMS are no longer sent in the background but formed by the app and require you to tap the send button in the messaging app.  
For it to work, you have to give the Alarmhandler app permission to send SMS. Under Settings-Alarm toggle SMS on. Then open the Alarmhandler app and try to tap the refresh button in order to request status from your SMS alarm. This will form  an SMS that is ready to send to your alarm to request status.  You will be asked what app should be used to send the SMS. Choose always to use the "Messaging" app (this will avoid the prompt in the future). The Messaging app opens up with the prefilled SMS. Just tap send. You can now go back to the Alarmhandler app.
German support
Previously the alarm app was only fully translated in English and Danish. German has now been added. If you have comments or corrections to the translation, feel free to send is your feedback 🙂
Kind regards
The Alarmhandler Team