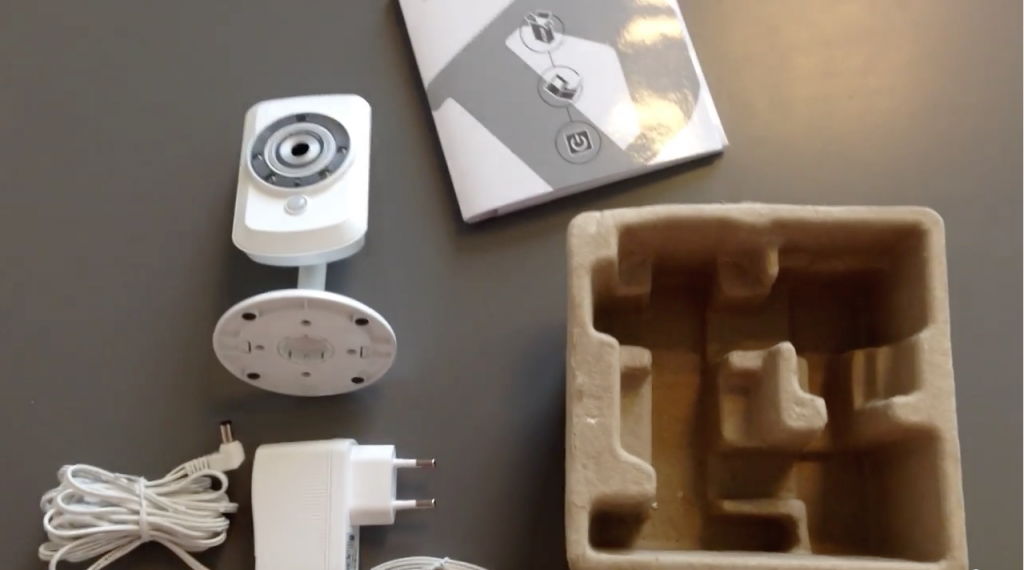 In this post, we're looking at how to do a thorough, structured IP camera test. The focus is on the parameters that matter when using an IP camera for intrusion and fire detection with the Alarmhandler service.
We will be publishing test on our blog using the structure outlined below. In this post, we don't test actual cameras but explain why the chosen parameters are important and what they mean.
Camera specs
We'll show a table with the physical characteristics of the camera
Photo Sensor resolution: Resolution of photo sensor and whether there are infrared motion sensor in the camera. Resolution is important if you want to recognise faces in the recordings.
PIR: Means that the photo sensor is not used to detect movements, this is done via a dedicated  PIR sensor – the same technology used by sensors in general alarms – which ensures e.g. sun reflections are not picked up as they could be using image change detection.
Field of view: Diagonal angle covered by the camera when taking pictures. Most IP cameras do not have wide angle and therefore a rather limited field of view of approximately 50 degrees. If the camera has a PIR, it can detect movements in an approximately twice as wide as the field of view. It can thus start taking pictures before a person enters the field of view, which can be handy. If the camera has a motorised mount set up to swipe back and forth and a PIR, it can reliably monitor detection and capture images up to 360 degrees.
Nightvision: The camera cannot take pictures in the dark unless it has built-in nightvison light in the form of infrared diodes. If a burglar has a flashlight or switches on the light in a room covered by the IP camera, a camera without nightvision will still detect movement and take pictures. So nightvision is not critical for intrusion detection – but sure makes it easier to see what happens in the pictures.
Microphone: Most cameras have it and it's smart because the camera can detect loud sounds such as old "dumb" fire alarms, otherwise not able to connect to the Internet. It creates the opportunity to monitor for fire without replacing your old fire sensors with expensive new "smart home" models.
Audio output: Found in more expensive cameras, giving you access to talk to people in the room. Many require connecting a speaker to the audio out jack, which in reality complicates your setup quite a lot. So if you want audio out, go for a camera with a built in speaker!
WPS: Most cameras have this. It's a button that makes connecting the camera to your local network simpler –  if you have a router also with an WPS button. Sometimes this does not work properly for your combination of camera and router, then cabling is the only way out when setting up the camera. After that you can usually run wirelessly.
WLAN extender:  The camera can be used as a repeater, so you get better wifi signal in the home. Note: This is a theoretical feature, as our tests have revealed!
LAN / POE: Just an indication if you can use the cam with a cabled network. Can be very handy if WPS does not work. Note that some newer camera models do not have this – but in daily use, most households rely on wireless networks, so it's not a problem if setup works with WPS. Please note that most cameras require 110/220V nearby, unless you the camera supports Power Over Ethernet (POE) or has a battery.
SD storage: We report if local SD storage is possible. Using SD storage is not recommended due to the high risk of loosing a camera during a break in. Instead we recommend storing images in the cloud like Alarmhandler supports.
Power cable: Length is important because you want to have flexibility in positioning the camera. Most camera cables end up with a power adaptor at the end of the cable, which means using an extension cord will never look good. A length of 3m is sensible, less usually means using an extension cord.
Installation
How easy is it to connect the camera to the wireless network and physically install it at home, if you are a regular do-it-yourself person?
Design and perceived quality
This is a bit subjective, but how "nice" is the camera design, the materials, how well designed is the camera app from the vendor, etc.
Live streaming / remote access
How well does it work to remotely access the camera with the vendor's app? Live streaming is nice as it allows  you to see what is currently happening at the estate.
Using Alarmhandler
How should motion/sound detection and ftp upload settings be set up? We look at how easy it is to do this.
Picture quality
We also check how well the camera takes pictures by day and by night. Some cameras do not have night light (IR diodes) and therefore rely on other sources of light to take photos when it is dark. Poor image quality means you can only detect something is wrong, but not easily check the recordings to see what happened.
Detection quality
Alarmhandler uses the camera as a sensor and we check the following:
Motion detection at day
Motion detection at night
Motion detection during the change between day / night
Audio detection
 Maintenance and support
How good is the documentation and are there updates on the supplier's website?
Price
Is the camera good value for money?
Conclusion
What's the most positive and the negative about the camera?
Would we recommend it to a friend on a scale of 1-10?
Check for camera tests on our blog. If you have experience using a camera with Alarmhandler, please share this with us such that we can share your findings with other Alarmhandler users 🙂
Kind regards
The Alarmhandler Team