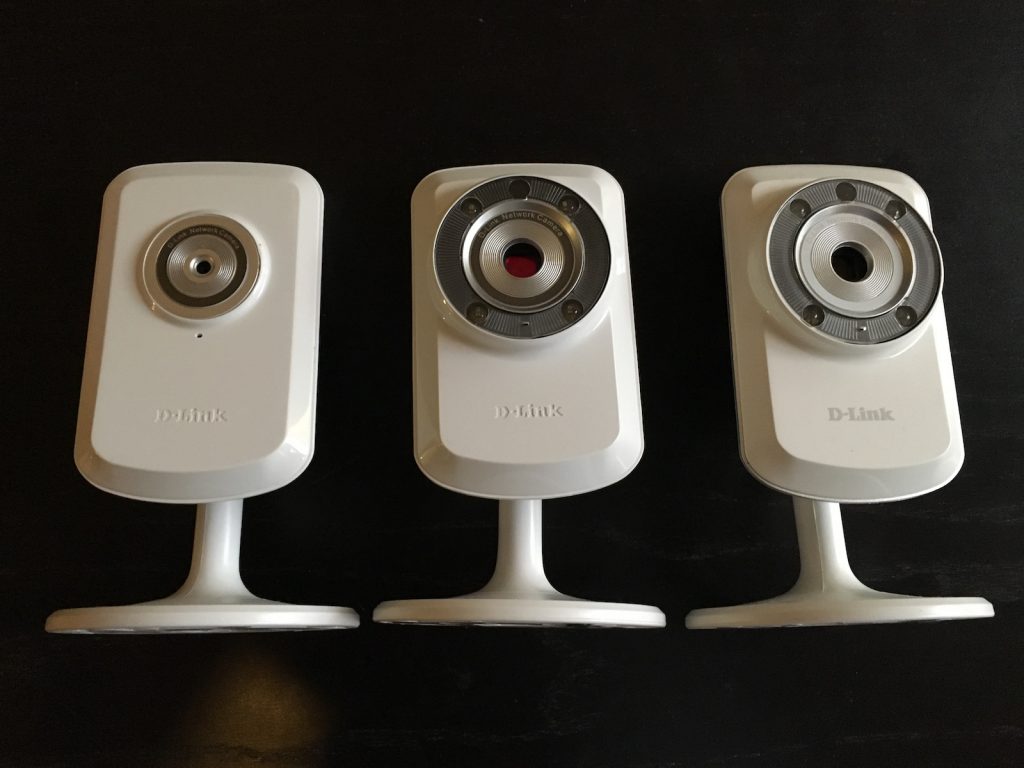 We test some of the cheapest and most sold IP cameras on the market, the D-Link DCS-930, DCS-932 and DCS-933 cameras. D-Link is a popular brand for consumer electronics, so let's find out if the popularity is justified!
Camera specs
Here's a quick overview of the camera specs:
Photo sensor / PIR
Field of view
Nightlight
Micro-phone
Audio-output
WPS
WLAN ext.
LAN / POE
SD storage
Power cable
640×480 /No
55
No (930)
Yes (932, 933)
Yes
No
Yes
No (930, 932)
Yes (933)
Yes / No
No
1.5m
Anything else included? Yes, there's an English starter guide, network cable, and a CD in the box.
The difference between the 930 and 932/933 models is in the nightvison, that has been removed in the cheaper 930 model. The sibling called 933 also has a WLAN range extender. However, some testing revealed that it only supported a handfull of very slow connections. So in essence, it's the same camera as 932.
Installation
The easiest way for the camera to get connected is on the house's wireless network with the use of the built-in WPS button on the camera. You do like this:
Press the WPS button on the back the camera for a few seconds, then the blue LED on the back of the camera flashes.
Press the router's WPS button or if not available, go into the user interface for the router and activate WPS.
Soon thereafter turn off the blue LED and then a green data LED lights on the camera, which means that the connection is established.
PS Check out our WPS article in the FAQ, if you need help using WPS!
The camera comes with mounting foot. A cover on top of the foot can be removed, revealing four holes. Using them, you can mount the camera on a wall and then hide the screws with the cover. Smart!
The power supply is white with a white cable of approximately 1.5 m. This is slightly short so you either need to have an outlet fairly close, or you will need an extension cord.
Design and perceived quality
The camera has a white, neat and compact design, made of good quality plastic, a steel ball connects the foot and camera and seems durable. It is quite good for adjusting the viewing angle when the camera is mounted on a wall. All in all, it is perceived quality is very good.
Live streaming
D-Link offers a free service "mydlink" which connects to D-Link cameras located in your home. Even for these relatively inexpensive cameras, you can connect them to the service and view a live stream from your home. This is done via a free app called "mydlink Lite" which is available for download in the Appstore and Google Play.
Mydlink Lite helps you connect your camera to your wireless network, secure the camera with a password and to create a mydlink account required in order to use the mydlink service. If you have multiple d-link cameras, you can add them to the same mydlink account. This means you can access them all from the same app.
After this is done, tap the remote tab in the app to access a camera and see a live stream including audio from the camera wherever you are, as long as you have Internet on your phone.
Live streaming is perhaps somewhat of a gimmick, and many have privacy concerns about it. If you don't like it, just skip connecting the camera to mydlink. The Alarmhandler app can co-exist with mydlink Lite or be used be on its own. Alarmhandler does not allow live-streaming, as it has no "hole" into your estate to turn the camera on. Instead Alarmhandler receives imagery sent by your camera in case of motion/sound detection when you've indicated you're not at home.
Using Alarmhandler
To be able to use the camera with Alarmhandler, you need to setup motion/sound detection and the ftp connection. As the D-Link 93x are the most widely sold consumer IP cameras, we've decided to make it easy. Just use the Alarmhandler app, add a camera and all setup of the camera is automatic.
So, the rest of this section is for the curious readers out there. If you really want to know what happens, here's how to manually set this up.
If you have downloaded the mydlink Lite app then you can control motion/sound detection, but unfortunately it's not possible to setup the ftp connection. Instead, you have to login to the camera to perform the setup.
In order to login to the camera, the first step is to find the address of the camera on your network. This can easily be done from an app like "Fing" which is available for free.  It shows the devices on the network your phone is connected to. Once you've found the camera's address, start a browser and enter the address, e.g. 192.168.1.13. The default username / password for the camera is admin and then the password you chose in the mydlink app (or blank password if you did set it up with mydlink Lite). After logging in, the camera shows it's built-in web pages.
If you did not use mydlink Lite to setup motion/sound detection, then do this via the camera webpage. Switch on "Motion Detection" and set the sensitivity to 40 and select all fields under "detection area" sample image – Note: the webpage requires Java plugin which many browsers no longer support.

Under "FTP", enter ftp server, username and password and tick "passive" transfer and "enable uploading images to an FTP server" on "Motion Detection" and select "date / time as suffix". We do not choose "Enable uploading of video clip to an FTP server" method, because the chance of losing picture material at a burglary is high. Sending video clips means waiting e.g. 30 seconds and then uploading the recorded video. It's very likely you get nothing if the burglar has found and unplugged the camera in the meantime.

Picture quality
Here is a picture taken in daylight: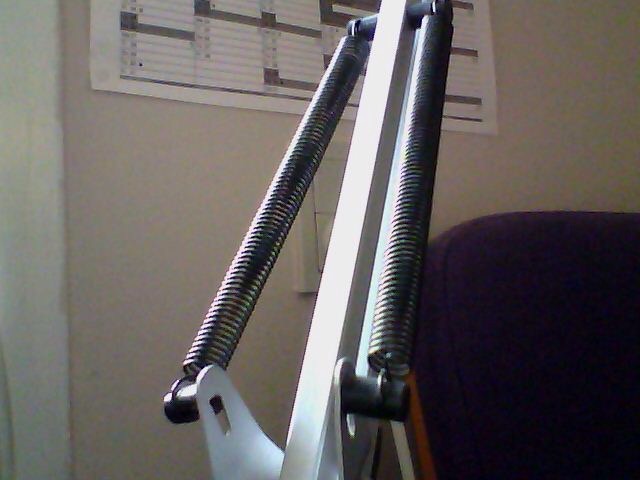 The 640×480 resolution  is enough to judge whether there is a person in the room and there's a real alarm or not. But you cannot zoom in and determine who the person is from a distance.
D-Link DCS 930 comes without IR diodes, so it cannot take pictures in the dark. Here's a picture from DCS-933 with night vision: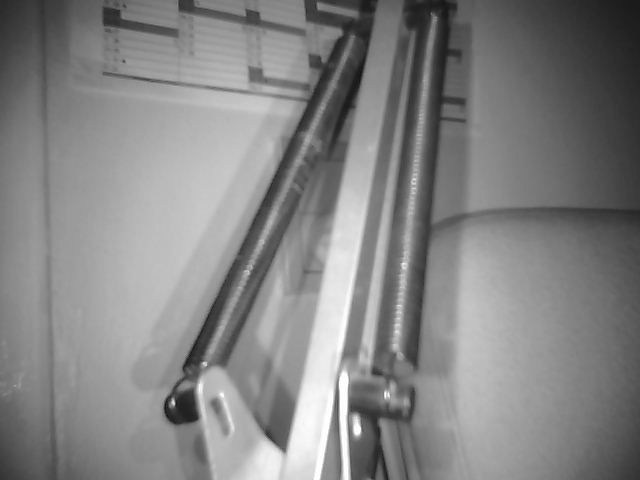 Detection quality
The following table shows the suitability of the camera as an alarm sensor:
Detection
Comment
1
Motion detection at day
The sensitivity can be set between 0-100. Level 40 seems suitable, you avoid false alarms but still pick up someone walking in the room. You should remember to follow our tips regarding placement of the camera in our FAQ.
2
Motion detection at night
930: Since there is no night vison, the camera does not pick up movement. However, if a person comes into the house at night with a flashlight or turn on the light, the camera will detect this, and you can see that something is going on.

932/933: Motion detection is based on comparing the captured images, and it works fine when the night diodes are on.

3
Day/night shift
930: No problems because the camera is allways using daylight mode.

932/933: Motion+sound is detected whenever the camera changes mode. We've been in contact with D-Link about this issue, but they have not done anything about it yet. The quick fix is to always run the camera in night mode to avoid the detection. It will pick up your old "dumb" fire alarms as long as they are in the same room. Fire alarms normally have sirens above 100 db.

4
Sound detection
930: Older versions had no sound detection, revison A. Later revisions known as D-Link DCS-930LB have this and it works well. You can change the sensitivity, but keeping it at max (90db) makes sure that you don't get false alarms.

932/933: Same sound detection as 930LB – works fine.
Maintenance and Support
D-Link provides nice support pages where you can download firmware updates, manuals, etc. Here's a link to the D-Link DCS-930 support page.
If you run into trouble, D-Link also allows you to submit a support request from their support page.  Nice.
Price
The cameras costs about 30-40 euros and are amongst the cheapest on the market.
Conclusion
Compared to other cheap cameras, you get great quality, live streaming, and customer support – so there's absolutely great value for money!
Would we recommend these cameras to a friend on a scale of 1-10? For the price-conscious buyer this is 10 out of 10, this is as good as it gets. If you've got a bit more money to spend and would like HD, then these cameras are not for you. But they're really good for getting started with Alarmhandler – check out current pricing at Amazon here.
Kind regards
The Alarmhandler team
UPDATE Dec 2017: With the current firmware version 2.14 (for 932) and 1.14 (for 933) we cannot recommend using D-Link DCS 932/933 for video surveillance with Alarmhandler. The cameras have very unstable motion detection, and Alarmhandler depends on the camera being able to do stable motion detection. The firmware results in upload of images to Alarmhandler even though there's clearly no difference in the images. Downgrading to a previous firmware version is probably not a good idea, as this could open up the cameras for vulnerabilities. We're in contact with D-Link about this issue, and will post an update when there's news in the matter.