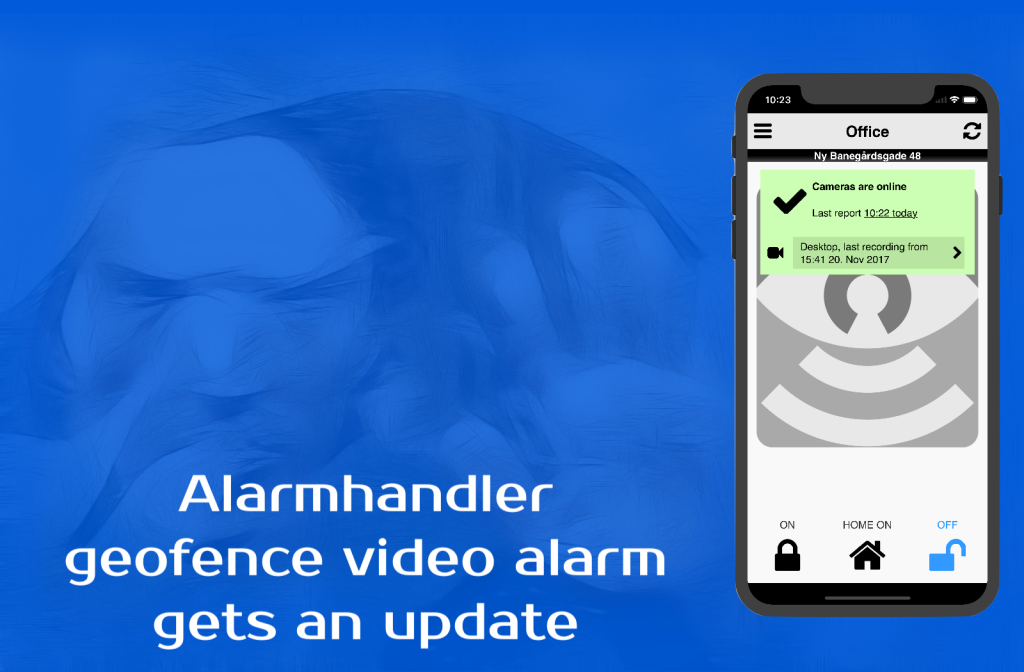 The Alarmhandler geofence video alarm service has just got updated, check out what's changed in Alarmhandler version 3.4.
What's Alarmhandler?
We're an independent alarm service provider that do not sell hardware. Instead we're in the business of developing a simple but effective video alarm service based on off-the-shelf cameras of different makes and models – we're solving the walled-garden problem you're facing with most camera manufacturers these days.
Optimized gefencing
Yet again, we've adjusted how geofencing works. Geofencing is the technology used for energy-efficient location tracking with maximum privacy. It does not let an app know exactly where you are, but just determine if you're near a specific location. We use it to intelligently turn monitoring on and off as people come and from an estate protected by Alarmhandler. The algorithm we use has been optmized in the new version, and apart from this, we've also fixed a problem that caused the app to sometimes log out when passing a geofence.
More SMS alarms supported
Alarmhandler lets you control an SMS alarm along with your IP cameras. The PIN code used to safeguard the app is used also for the SMS alarm. We use the # sign to insert the PIN code at the right place in the control string sent to the SMS alarm. This unfortunately meant we did not support alarms that had # as a part of the control string. This is now allowed in Alarmhandler – just add a backslash in front of # signs in the control string. Example
We hope you like this minor update. If you have feedback, please send it to feedback at alarmhandler.com – thanks!
Kind regards
The Alarmhandler Team