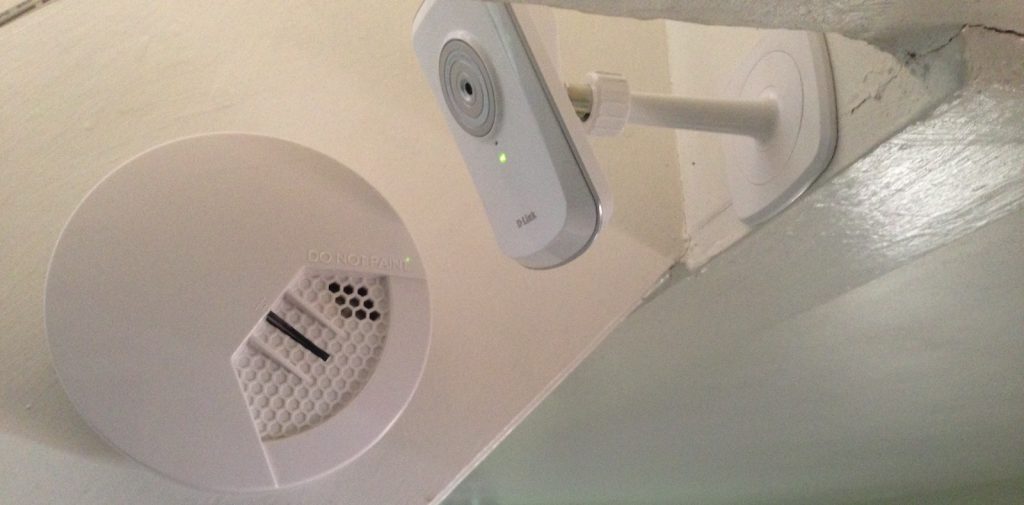 Did you know that you can bring your old fire alarms online? Unless you have a lot of cash left over, there's no need to go out and buy the latest online fire alarms. Just bring your old alarms online using cheap IP-cams and the Alarmhandler app!
The problem with conventional fire alarms
Perhaps you have some of the traditional smoke detectors, which beep loudly when smoke is detected. But what if nobody is home? Then there will be no reaction, as neighbours are rarely able to hear where an alarm is coming from.
The problem with intelligent fire alarms
You might have a burglar alarm that can be retrofitted with special fire alarms. Or you could buy one of the new expensive online fire alarms. If you do this, you or your alarm service guards will get notified in case of a fire. However, if you have many rooms in your home, this will be very costly!
Protect your pet
If no one is at home when the fire breaks out, then no human life is at stake. But what about your pets? Whilst developing the Alarmhandler system, we conducted a bunch of interviews, and fire was mentioned as a worry amongst pet owners – so we try to address this with Alarmhandler. You can turn on Alarmhandler when you're not at home and know that you will get notified in case of an emergency.
Do you have a backup?
If you have un-monitored fire alarms, there's a great chance that a fire will not be detected by others before someone sees smoke coming out of your windows. At that stage, you will have major damages in your home. There may be things that are hard to replace – old photos, inherited items, etc.? It will always be better to catch a fire earlier stage in order to avoid damages.
An easy solution
We developed Alarmhandler with fire detection in mind. You most likely already have several smoke detectors in our home, so we want to build on that. No reason to throw away things that actually work! Combine them with a sound detection sensor which is found in most IP-cameras. And on top of this, add our Alarmhandler app which notifies you – and your neightbours, if you invite them as "helpers" in the system. The app also has built in guidelines provided by fire professionals to guide you when handling a fire.
That is how it works
You install an IP camera near a fire alarm. Preferably, use fire alarms that are interconnected, meaning the sirens of all of them go off when just one picks up smoke. Alternatively, install several IP-cameras in your home to ensure you pick up all the sirens. Then set up the IP-cameras to upload a short video clip to Alarmhandler in case of a detection of a high sound. The Alarmhandler app will subsequently notify you of the alarm, and inside the app you can play the movie clip with sound and confirm if it's a fire alarm sound or not. After that you can either take action yourself, or use the built in function to call in neighbourhood helpers in the app.
Doing so can save vital time, as you might have people on the spot in minutes.
Getting Started
It's easy to get started if you have an IP-camera, just download the Alarmhandler app and signup for a 30 day free trial. If you don't have an IP-camera, you can pick them up at a store near you from around 30EUR / USD and up. The cheapest ones can only upload still images, but that might also suffice for a start. Using Alarmhandler, you will get guidance on how to connect your camera and thus bring your old fire alarms online!
Kind regards
The Alarmhandler Team